Lectern Rig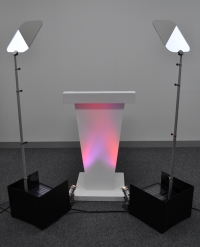 Static Poles
The lectern rig enables the presenter to deliver his message directly to the audience, no more fumbling with notes.
Telescopic poles and mirrors are set at the lectern using high brightness monitors.
Hides to shield the monitors from the audience view are provided.
Motorised Poles
For presenters of differing heights, motorised poles can be used and heights pre-set for each presenter.